07 novembre 2019
Idon't want to look retro. I think victory rolls are twee and I would not be seen dead in a nylon petticoat. I will go for a bare leg over a seamed stocking every time. Right now I want a cardigan that I can tuck into a midi skirt, but I want it sleek and neutral like the ones on the Chanel autumn/winter catwalk, not in a fuzzy pastel with embroidered flowers. So today, Mel Wilkinson, the Guardian's stylist – a vision of contemporary chic in understated neutrals – and I have set ourselves a challenge. We are going secondhand shopping, but for this season's looks. Can we find now clothes, without buying new clothes?
Buying clothes secondhand is, after all, very fashionable. This is sustainable retail therapy, a feelgood fashion fix that doesn't add to the environmental problem of clothing overproduction. In the US, the resale market has grown 21 times faster than the retail market in the past three years, with a ThredUp report this year predicting that the secondhand market could overtake fast fashion within a decade. In the UK, the younger generation of shoppers are returning to a taste for secondhand that their parents' generation, raised on a ready-made diet of fast fashion, never cultivated. Eighty per cent of 16-21 year olds are happy to buy secondhand clothes – second only in their enthusiasm to the over-60s, of whom 90% are comfortable buying used garments – while less than a third of shoppers in their 30s and 40s are on board, according to a survey by Business Waste, a waste management agency.
The new higher profile of secondhand shopping is beginning to be felt on the high street. In Covent Garden in London, a new branch of Picknweight, a vintage kilo store that is already a cult destination in Berlin, had customers queueing down the street when it opened. Mel and I start our hunt for now-clothes-not-new-clothes next door, in the Shelton Street branch of Rokit, a vintage institution which has resold more than a million tonnes of preworn clothing since the first branch opened in Camden market in 1986. The shopfloor is vast, but Mel is dauntless. "Most vintage shops curate their pieces in a way that reflects current trends," she says.
In minutes she has unearthed a tan leather shirt – very Loewe, but a fraction of the price at £25.
Secondhand hunting requires you to up your game as a shopper. Walk into a high street store and you will see ready-made looks, glossily presented on mannequins and helpfully merchandised with stock in different sizes and coordinating items. In a secondhand store, you have to move slower and look harder. You have to rewire your brain a little bit. It helps to remind yourself that while new clothes look the best they will ever look fluffed and spotlit on the shopfloor, secondhand is the opposite – these pieces undersell themselves on the shopfloor and come into their own once you get them home.
Clare Lewis, founder of an online vintage boutique Retold, has a robustly non-retro aesthetic, having spent a decade designing for Topshop. "I started Retold to encourage people to see how vintage could be incorporated into a modern wardrobe and look contemporary, in the hope they would be inspired to shop vintage as an alternative to buying new," she says. This is a great season to source vintage because "so many trends lean towards the 70s, 80s and 90s".
She tips hunting for trenchcoats, blazers, midi skirts and blouses to channel the bourgeois-lady look, as seen at Chloé and Burberry. Leather, as seen at Bottega Veneta and Isabel Marant this season, should be on your contemporary-vintage hit list, too. Leather is abundant in secondhand stores, but Lewis suggests narrowing down your shortlist by concentrating on tailored pieces in neutral, tonal shades of brown or grey.
If you want to find clothes that look current, rather than designer bargains, don't look at labels. Instead, zoom in on colours – anything beige, tan or gold is great for now. Or look for the skirt length of the moment – somewhere between midi and maxi. Rokit has lots of great silk blouses. We find a particularly good leopard print – very next-season Celine, down to the gold lurex thread running through it. Argyle-knit sweaters, as seen on the Gucci catwalk, are here too – there is a nice, snug burgundy one, in perfect condition, for £12. A tweed blazer with an embellished jewel collar is really quite Prada, and only £45. If 90s sportswear is your thing, you are spoilt for choice – lots of Reebok and Adidas hoodies, for about a tenner each.
Holly Watkins is another fashion industry veteran and the founder of the online vintage boutique One Scoop Store. "The preconception with vintage is that it's all brown 1970s polyester dresses, massive leather jackets or badly fitting tweed skirt suits, but that's just not the case these days."
Her online edit features Molly Goddard-esque ruffles, brightly coloured tailoring and 70s-style chiffon and lace. "I recently had in an incredible geometric print kaftan dress cut in a circle, which was very similar in shape to a Margiela one I own. Another of my favourites lately was an emerald green metallic 1970s maxi which the customer styled with white leather ankle boots – the result was so modern," she says.
From Rokit, Mel and I move on to Beyond Retro, a warehouse-sized Aladdin's cave of a shop near Brick Lane in east London. A flick through the rails soon turns up treasures: a tailored long-sleeved brown dress with a white, pearl-studded wing collar – very this-season Victoria Beckham for £29 – and a 1980s party dress with draped neckline and shoulder pads in glittery black velvet, which is pure Anthony Vaccarello-era Saint Laurent, for £25. To go with it, a beaded evening bag is just £9.
There are racks of trenchcoats, piles of corduroys and acres of high-waisted denim, as well as a treasure trove of non-trend pieces, from ski wear to weekend bags. The circular economy is perfectly suited to fashion's self-referential trend system. "Fashion is cyclical, after all," says Lewis. "You can pretty much guarantee that the original of what you are looking for will be out there."Read more at:evening dresses australia | formal dress shops
27 mai 2016
More than 30 graduates gathered at the Tony Rotino Center at the Cape Coral Yacht Club Friday, along with friends, family and honored guests as they received their diplomas and prepared to enter the workforce.
For about half, the workforce is waiting for them, as they had already secured entry-level jobs in the high-demand medical field, with salaries that will allow them to pay the bills and raise their families.
Sylvia Dorisme, president of SWVT, a private vocational school, said she was excited about the occasion, meant to celebrate the success of her students.
"We want them to go out and live their dreams and recognize their achievements. Our goal is to get them trained so they can work in a health-care setting," Dorisme said.
The school offers fast-paced medical training programs for medical assistants, phlebotomist technicians, patient-care technicians, home-health aides and more. These programs offer hands-on training for students that can put them to work in a matter of weeks.
"There's a great need for health care workers, and we try to target the programs that will lead to employment. Medical assistant is common, but hospitals also hire medical assistants," Dorisme said, adding that the school offers job assistance and employers come to recruit at the school.
One of them is Wendy Murray, who talked about the evolution of the healthcare industry and how the jobs the graduates are moving into will provide stability and better pay.
"Home health careers are a diverse and dynamic industry. About 15 million people have some kind of home health care," Murray said, adding that the passing of Medicare in 1965 grew the industry exponentially.
Kalasian Hall was one of those who walked that aisle and was very excited to start her journey that she hopes will end as a midwife.
"I went into this to see if this is what I really want to do. Working with the instructors, it's what I want," Hall said. "I like to see babies being born and families happy. I'm excited about my life."
Trevian Salter, the lone male graduating, said he was happy seeing so many accomplished people. He will go into phlebotomy and see if health care is right for him.
"We're ready to go into a new stage of our lives. I wanted to start something new for myself," Salter said. "I was working day jobs, but now, I'm good."
Related:GraziaDressAU formal dresses melbourne
The school opened in 2009 in a 700-square-foot storefront before moving this year to a new 6,500-square-foot facility at 1200 Del Prado Blvd., South, with a satellite location in Bonita Springs.
Among those who attended and spoke were Cape City Councilmember Rana Erbrick; Ralph Santillo, founder of Invest in America Veterans Foundation; and keynote speaker Marie Tomlinson, one of the first graduates out of nearly 3,000 at SWVT, who talked about her journey from high school dropout to having a successful career and going for her bachelors degree.
The grads ranged in age from 17 to their 30s and 40s.
Graduate Naomi Whaley was super-excited to move on to the next phase of her life as a phlebotomist, happy with the quality of education she got.
"We had a great instructor named Layla. The school is great. I think I learned more in this class than in all my years in high school," Whaley said. "I'm going to be drawing blood and doing lab procedures. I'm going for my EKG in July, then I'll be going to work."
© Copyright 2016 Cape Coral Daily Breeze. All rights reserved. This material may not be published, broadcast, rewritten or redistributed.
Related:formal dress shops sydney
23 mai 2016
 Manchester United players and staff returned to the north on Sunday after their FA Cupfinal heroics.
 United stayed in a central London hotel overnight and were ferried to Euston station at lunchtime ahead of their train journey back to Manchester.
 Players and staff disembarked at Stockport station, where Marcus Rashford was photographed carrying his Cup final boots in a Megastore bag ahead of joining up with the England squad.
 While most players had cars awaiting their arrivals, the modest Sergio Romero patiently waited at the taxi rank with his wife and two young children. Head of academy Nicky Butt was also spotted, as well as United assistant manager Ryan Giggs.
 Giggs' 27-year association with United could come to an end shortly, with Jose Mourinho due to take over as manager next week.
 Fosu-Mensah and Rashford were two academy graduates to emerge under Van Gaal
 Manager Louis van Gaal was also pictured with his wife dodging a journalist's questions, with United expected to confirm his departure and Mourinho's arrival in the coming days.
 The 64-year-old was photographed driving out of the car park - with, perhaps, some rather unfortunate signage surrounding him.
 A number of photographers, reporters and fans were at the station as Van Gaal and his players returned home.
 The manager spent his post-match press conference talking about his plans for next season with the club and refusing to discuss his position with the media.
 image:backless formal dresses
 Rashford carried his boots home in a Megastore bag
 He said: "I gambled with youngsters this season. I thought we needed the spirit of the youngsters.
 "I believe in refreshment of my squad but it depends on what players we purchase, you cannot stay with the same squad.
 "Last summer I wanted fast wingers and we didn't do that. You are thinking everything is possible at Manchester United but it's not. We have a bigger chance than others because we are a rich club."
 Relatedlong formal dresses
20 mai 2016
Jueves, 19 de mayo de 2016 - Edición impresa
VERACRUZ.— Enrique Capitaine Marín, hijo del ex alcalde priista de Nautla Felipe Capitaine, recibió ayer auto de formal prisión por su presunta participación en el abuso sexual contra la joven Daphne Fernández.
Según información de "Proceso", ayer venció el término constitucional y el Juez Tercero de Primera instancia encontró elementos suficientes para decretar su probable responsabilidad en el delito de pederastia.
Capitaine Marín fue detenido hace una semana en la ciudad de Torreón, Coahuila, donde los agentes ministeriales incursionaron el pasado 12 de mayo, mediante el respectivo oficio de colaboración con la Fiscalía de aquella entidad.
"Basado en las pruebas aportadas por el fiscal investigador adscrito a la Fiscalía regional con sede en Veracruz, el juez avaló la indagatoria ministerial y obsequió en una primera instancia la respectiva orden de aprehensión, que fue cumplimentada y el día de hoy (ayer) dictó el auto de formal prisión en consecuencia a los hechos asentados en la Causa Penal 83/2016", expresa un comunicado de la Fiscalía General del Estado.
Aunque los otros presuntos responsables del abuso a la menor Daphne, conocidos como "Los Porkys de Costa de Oro": Jorge Cotaita Cabrales, Gerardo Rodríguez Acosta y Diego Cruz Alonso, también tienen liberada orden de aprehensión aún no son localizados.
A los cuatro jóvenes se les acusa de haber subido por la fuerza a la Daphne Fernández al interior de un vehículo Mercedes Benz para después abusar sexualmente de ella en un domicilio del fraccionamiento residencial Costa de Oro en Boca del Río, en Veracruz.
Antes de que se diera a conocer la resolución del juez, familiares y amigos de Daphne Fernández marcharon por las calles de Veracruz para exigir justicia y sanción penal para los otros tres jóvenes involucrados en el abuso sexual de la joven que aún estudia el bachillerato en un colegio privado del municipio de Veracruz.
Related:plus size cocktail dresses
Familiares de la víctima en el caso de "Los Porkys de Costa de Oro" denuncian difamación.
Pagan publicidad
Javier Fernández, padre de Daphne, la joven presuntamente violada por los llamados "Porkys", señaló que los padres de los acusados han recrudecido su campaña de hostigamiento y desprestigio contra él y su familia, e incluso pagan publicidad para difundirla en redes sociales.
- See more at: http://yucatan.com.mx/mexico/formal-prision-uno-los-porkys#sthash.FTHq90UA.dpuf
Related:semi formal dresses australia
17 mai 2016
autiful gowns, tailored tuxedos, rare wines, and giving hearts were all a part ofManchester Community College's 24th annual Evening of Fine Wines last month.
Guests participated in a tasting featuring a variety of fine and rare wines, beers, and champagnes; a silent and live auction that featured weekend getaways, outstanding trips, golf, and restaurant gift cards; and original artwork.
Proceeds from the event went to benefit programs and scholarships for MCC students.
"Tonight has been magical," said Dean of Institutional Advancement & Community Engagement Endia DeCordova. "We have been able to raise over $200,000 for student scholarships and academic programs. With the state of our budget at this point, these dollars are necessary for us to do what we do."
The presenting sponsor for the evening was the United Bank Foundation Connecticut. Eastern Connecticut Regional President for United Bank Adam J. Jeamel was the honorary chair of the event.
"Tonight is all about supporting students that come to this school looking for a first-class higher education," Jeamel said. "It's a part of our culture at United Bank to support the community."
The bank, formerly known as Rockville Bank, has been a longtime supporter of MCC. The company recently donated $100,000 to the school's manufacturing program and has sponsored the Evening of Fine Wines in the past, Jeamel added.
"[MCC] provides a great college campus, great faculty, and great leadership to provide the great academic foundation that people need to succeed in the community and in life," Jeamel said.
"We are so grateful to the United Bank Foundation and all our supporters for helping us to raise the funds needed," DeCordova said.
Related:bridesmaids dresses sydney
"Tonight's event is probably, besides graduation, the most special night of the year," MCC President Gena Glickman said. "It's all about the students."
Students from the MCC culinary and art programs prepared hors d'oeuvres and desserts. Students also served as servers, entertainers, and worked behind the scenes.
The student art club even created the masquerade masks for guests. The MCC student newspaper, Live Wire, interviewed guests as they entered, making the evening a full-fledged red carpet event.
Glickman said that the money raised from the event will help carry students to their long term goals.
"We have to build stronger communities," Glickman said. "So it just not about a book scholarship for a student, it's a book scholarship for a student who is going to be opening their own business, who's going to be paying taxes, or homeowners. It's an investment in everyone's future."
Read more:brisbane bridesmaid dresses
14 mai 2016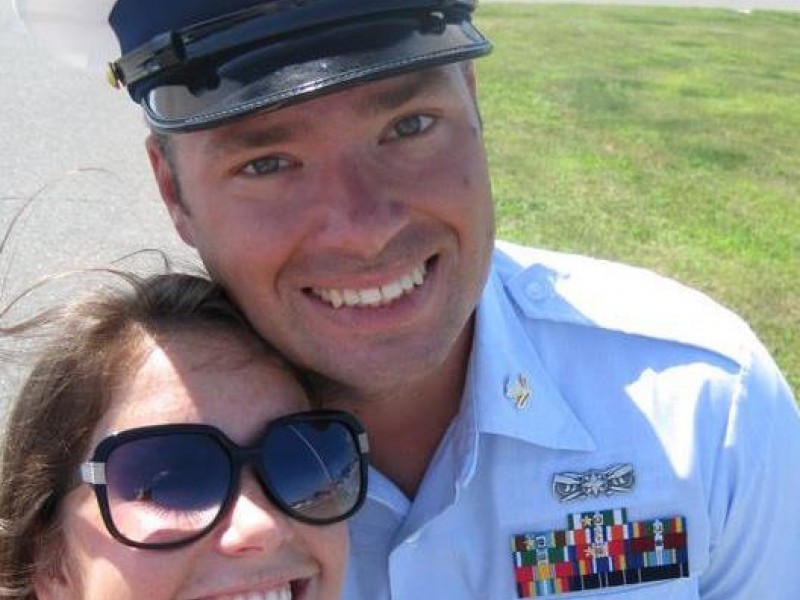 Petty Officer First Class Patrick Rogers, 33, and Jessica Peters, 30, of Sayville, won the Annual Veteran's Day Wedding Giveback, a contest that's held to thank military personnel and recognize them for their service to the nation, organizers said.
They were surprised at a special event held Thursday at Peconic Landing in Greenport, where they had no idea they had been chosen as winners.
Sponsored by Peconic Landing, the giveaway, which includes a dream wedding at Brecknock Hall, is made possible through sponsorship and contributions from local businesses and organizations who donate time, talents and services.
The couple has been engaged since March 5 and dating since 2011. Rogers has served in the United States Coast Guard for 13 years.
The lovebirds were beyond ecstatic about winning.
"The experience has been surreal and we are still in shock that we have been chosen for the 2016 Veterans Day Wedding Giveback," said Jessica Peters, who lives in Sayville.
Peters said her sister saw the advertisement for the contest and immediately forwarded them the information to enter. "She knew how dedicated Patrick is to his career in the Coast Guard and how his efforts in both his daily work as well as his extra volunteer work would help make him deserving of this honor. I'm so glad the panel of judges who read our application also felt the same way," she said.
The couple, she said, met five years ago, "when Pat and a few of his colleagues who were stationed in Hampton Bays at Coast Guard Station Shinnecock decided to go out to eat at a restaurant where I worked part time. We met on a Tuesday and Patrick was on duty the following two days so we scheduled our first date for that Friday. We went out for dinner and drinks and conversation never stopped. We got along great and had so much in common and have been inseparable since. I knew I'd found the love of my life right from the start."
Peters said her family has always loved boating on the Great South Bay, and Rogers' family did the same. "Throughout our relationship, even though I have always traveled out east with my family, Patrick would take me on day trips to explore new towns and teach me even more about the East End of Long Island. We would walk through Main Streets, hike through different woods, spend the day at beaches I had never been to, and visit town festivals. We definitely enjoyed eating and drinking local food and beer at different restaurants, as well."
The pair shares a love for skiing — her fiance proposed to her on a mountaintop, Peters said.
They also enjoy traveling to upstate New York where our families both vacationed — her grandmother owned a home in Bolton Landing and his family had a home in Fort Ann.
More from Across Patch
Texas GOP To Vote On Whether To Break From United States
New Jersey Mom, 7 Kids Win $429.6M Powerball Jackpot
LISTEN: Donald Trump Reportedly Posed As PR Rep To Brag About... Donald Trump
"Winning this wedding has been a dream come true," she said, adding that trying to plan a wedding has proven to be a bit difficult. "We are currently living a long distance relationship during our engagement, with Patrick in Massachusetts at his current assignment on the Coast Guard Cutter Key Largo out of Gloucester, and I am on Long Island where I continue to work."
They chose Long Island for their wedding because it's where they both grew up, where they met, and where their families live.
"Over the past two months, when Pat isn't underway, he has spent a majority of his free time coming to Long Island to visit venues with me. The process has been both expensive and time consuming. Now that we have won this incredible opportunity, we are confident that we are in good hands with Brecknock Hall, Peconic Landing, and all of the wonderful vendors who volunteer to help with this event. We can't wait to get married!"
Added Boatswain Mate First Class Patrick Rogers, 33, of Manorville, "We wanted to win so badly because it was rough planning a wedding with us being separated, especially since we wanted to have our wedding on Long Island."
And, Rogers said, "It's nice to be recognized for my service and dedication. My career can have very long and irregular hours and for the past five years Jess has been very understanding and continued to stand by my side. I'm glad she is also being honored and her commitment is being recognized as well."
Rogers said, he, too, knew right from the start that he had met the love of my life. "I love that she is strong and smart and willing to move her life to be with me and make this work."
"We are honored to be able to provide Jessica and Patrick with this special day," said Robert J. Syron, President and CEO of Peconic Landing. "This giveback would not be possible without the support of our many sponsors and business partners."
The winning couple was chosen by a panel of Peconic Landing's veteran residents who judge the contest based on the number of years served, special military honors, contributions to the community and each couple's personal love story.
Last year's winning couple, Sgt. Robert Surozenski of the United States Marine Corps and his wife Sara LeDonne were jubilant over the wedding of a lifetime. The couple is now expecting their first baby, a little girl.
"The Veteran's Day Wedding Giveback provided us with a dream wedding, offering us a high-end venue, food, entertainment, decor and services that we would not have been able to obtain or afford on our own," Sara said. "The best part of the day for me was the ceremony. Everything went so smoothly and Brecknock has such beautiful curb appeal. Everybody worked so hard for us, and we are forever grateful."
Related:GraziaAustralia
The dream wedding will take place on Sunday, November 13, 2016, in celebration of Veteran's Day, and will accommodate up to 80 guests.
"For all of the sacrifices our local service men and women make, we are proud to provide a deserving couple with this special day," Syron added.
Winners will receive an estimated $60,000 worth of services and in-kind donations from vendors including A Flippin Good Time, Allison G. Pressler Professional Skin Care, American Tent Company, Beautiful by Katy & Dina, Christopher Michael Catering, Dear Stacey Photography, East End Events Catering, East End Expressions, Fire Monkey Hair Design, Go! Bespoke, Greenport Harbor Brewing Co., Greenporter Hotel, Ivy League Flowers, Kim Jon Designs, Leanne's Custom Cakes, Macari Vineyards, Moments In Time Floral Design, Moriches Main Street Flowers, North & South Fork Weddings, Sons of American Legion, Post 203, Southold Fish Market, Southold IGA, and SPINA Bride, which will donate the beautiful gown.
Related:semi formal dresses brisbane
12 mai 2016
CCAD's annual Senior Fashion Show is not simply the culmination of four years of design training for students, but also evidence of a symbiotic relationship that is helping to drive the continuing development of Columbus as a fashion hub.
If the presence of established corporate fashion and the increasing proliferation of indie designers help inform the training of young designers at CCAD and other institutions, those young designers are, in turn, building on the city's existing reputation and moving it forward in new, exciting directions.
"There is a great access to talent here. Having corporations that bring people here to work who stay here and maybe move on to a boutique or create their own collection provides students with real feedback from professionals," CCAD Fashion Design Chair Suzanne Cotton said. "Our program brings a lot of people here, many not just to study but also to stay here and create."
The designers featured in this year's show bring varied approaches conceptually, aesthetically and technically. Jacob Maitland's eveningwear pieces are luxurious and elaborate. Jiaqi Kou's looks are inspired by her Chinese heritage and feature her own hand-dyed fabrics in wool, linen and cotton. Sheri Wu's "Resonance" looks to draw inspiration from her treatment for a brain tumor ("Resonance" as in, Magnetic Resonance Imaging), including a custom fabric she modelled on her own brain scans. Lauren Metelitz's looks feature more than a hint of Spanish style, with nods to matadors and flamenco dancers in all black material.
"Matadors wear these beautiful, custom-tailored clothes and then go out and do what they do, which feels like a tragedy, so that's why my collection is all black," Metelitz said. "I used all different textures — lots of different kinds of fabrics — and incorporated hardware and fringe.
Metelitz said she was going for a look that was "more daring, something really interesting."
"We strive, as a department, to encourage students to develop their own aesthetic. The goal is to develop the creative designer mind," Cotton said. "If you can create your own process, you can be successful."
Each year, once collections are selected for the show and pieces finished, the students complete a design study unrelated to their collections. This year, Cotton said, she decided to explore the issue of sustainability as it related to fashion.
"Sustainability is becoming more and more important in our industry, looking at processes and asking 'Are we being responsible?'" she said.
Cotton invited fashion designer and visionary Celeste Malvar-Stewart to discuss her favorite topic with the students.
"This was the highlight of my year so far," Malvar-Stewart said.
Since moving to Columbus about three years ago, Malvar-Stewart's commitment to exploring sustainable fashion has increased, as she connected with local farms for fiber and foraged for locally-made dyes.
"People have this image when you say 'sustainable fashion' of wearing burlap sacks," she said, only half-joking. "The challenge for these young designers is how to create beautiful pieces within a sustainable model, without compromising design. I wanted to come in and make students aware of every aspect of the design process."
Related:graziaaustralia.com
Among the sustainable projects was Metelitz's white dress design, created from used dryer sheets.
"At first I was trying to do something with lint, to try and show how these microfibers wash away every time you clean your clothing," she said. "Celeste gave me this big bag of lint and dryer sheets, which are also unsustainable. I started ironing the sheets and then cut them into smaller squares and sewed them into rolls. It looked like a brick pattern. So now I have this simple, elegant dress made completely from dryer sheets."
Metelitz admitted the dryer sheet dress is "an awareness piece." "I don't know that people are going to wear dryer sheets," she said.
"It's so lovely," Malvar-Stewart said of the dress, adding, "All of the students made these really innovative pieces."
The sustainable pieces will be displayed on mannequins in the party area of the fashion show. Meanwhile, the collections will be modeled on the runway at CCAD's Design Studios on Broad. A VIP reception kicks off the Friday event, followed by the show itself at 8 p.m. Doors open at 7:30 p.m. for general admission. VIP tickets also include a post-show party and admission to the Jazz Lounge. General admission also includes the after-party.
24 février 2016
First up, let's take a moment to admire the smoldering smoky eye as seen backstage on the models at Daks. The smoked-out, all-over shadow is painted around the entire eye and to the tips of the brows, almost blending into each of the models' arches. For a more pared-down version of the look, we recommend starting with a lighter shadow shade and keeping the smudging to under the brown bone.
Meanwhile at the Alexander McQueen show, it was all about the hair. Models were given delicate bejeweled and pearl-adorned barrettes and bobby pins to accessorize their wispy, unkempt updos.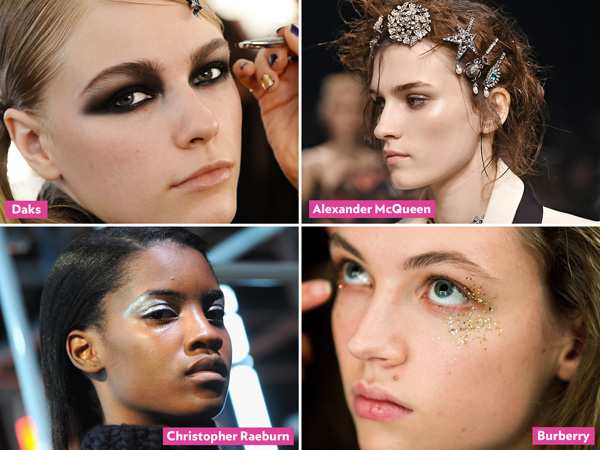 But the randomly pinned jeweled pieces, which reminded us of our mothers and grandmothers' timeless brooch collections, were more cool girl than polished. And now we can't wait until fall to pull off the statement look.
Read more: bridesmaid dresses
In a galaxy far, far away (okay, or just across the pond), supermodels in the Christopher Raeburn show strutted down the catwalk with a far-out, futuristic makeup moment: a statement silver smoky eye that touched above, on top of and under the eye. Even cooler? The bold look shined on its own, as it was paired with an otherwise bare-face complexion
Thinking of trying out the silver shadow look on your own? Start subtle with a silver eyeliner and switch up your signature black liner cat eye for a galactic take on the bold beauty moment.
And last but certainly not least, just weeks after supermodel Suki Waterhouse stepped out with head-turning glitter tears for the Pride and Prejudice and Zombies premiere, Burberry sent its models down the runway with a similar (and equally as striking!) makeup moment for its fall presentation.
The gold eye glitter, which lead Burberry makeup artist Wendy Rose describes as "eclectic," is an otherwise minimal makeup look with a dewy complexion, softly smudged smoky eye and a cluster of loose sparkles applied to the outer corner of the eye for an instant pop on a seemingly neutral beauty look.
Can't wait to try the look at home? Just grab a tube of Chapstick, dab under your eyes and carefully tap on as many (or as little!) glitter flecks as desired. Shine on!
Also see: plus size bridesmaid dresses
19 février 2016
From the moment she set foot on the Grammy red carpet, all eyes were onTaylor Swift, who went higher, barer and brighter in a two-piece color-blocked Atelier Versace ensemble. From head to toe, the look highlighted the country-turned-pop star's assets: the floor-length silk skirt with a high slit showed off her gams, while the coral bandeau top accentuated her toned physique. Completing the look: a multi-colored sapphire necklace, pink sapphire studs and an orange sapphire oval ring by Lorraine Schwartz totaling $900,000.
Billboard spoke exclusively with Donatella Versace, the Italian fashion house's legendary creative director, about the inspiration behind the bold and sexy look.
What were you drawing from when you designed this look?
Images: backless formal dresses
I was thinking about color blocking, which seems like a very simple idea. But this is pure couture. The complexity is in choosing the right colors, and then cut and fit to create the power and drama.
How did you and Taylor collaborate on it?
She wanted a look that was young, sexy and fresh, as she is, totally reflecting her character. It was a pleasure to create this look for her. Taylor's gown is the perfect example of how bold color can create such an incredible effect.
What's your philosophy about color on the red carpet?
I love playing with color on the red carpet. For me, color is so important to capture a woman's character and her power. How boring would the world be if we all dressed in dull colors? I'm Italian, I love passion and energy.
What kind of liberties can you take on Grammy red carpet that you can't for the Oscars?
My name is Versace, when do I ever play by the rules? Every time we create an Atelier Versace red carpet gown, it is a unique reflection of the woman wearing it. I'm not thinking about the rules, but about the woman who is wearing the gown. I want them to look their absolute best, shining brighter than they've ever shone before. The red carpet is such an important moment for any star, when all the eyes of the world are on them.
Still, there must be a difference, even ever so slight?
On the Grammys red carpet I'm able to push for particular styles, a more rock n' roll mood, and for the Oscars I tend to design for the character the actors play in the movie as well as for the actors themselves. It's my responsibility to give them perfection, and it is something I take very seriously. That is why when the icons of the world walk the red carpet, they wear Atelier Versace.
What is it like having Taylor wear your design?
I'm very proud of this dress. Taylor is such an inspiration. She has become one of the biggest icons in the world in such a short time by being totally herself.
For more at www.graziaaustralia.com
03 février 2016
If you're a fan of fashion's new kids, Gigi Hadid and Kendall Jenner (yep, join the club), then you've no doubt heard haters say they haven't 'earned' their place, and are only famous 'cause of their famous rents.
Rude, we know.
Granted, Kendall's 'momajer' Kris is credited with sky rocketing the entire Kardashian Klan to (eternal) glory, and Gigi's mama, Yolanda Foster, made it big on The Real Housewives of Beverly Hills. BUT they're also amazing in their own right.
If you don't believe it, Shanina Shaik (fellow Victoria's Secret model and Aussie mega babe), agrees with us, saying the super famous BFFs 100% deserve to be where they are.
"I know them personally. Attachment sometimes from the outside in can help but they do work really hard," Shaik told Daily Mail Australia.
"They also have dreams and goals they want to achieve and they're very humble and they're very appreciative of everything great that happens to them. I see that myself."
Related: Coral bridesmaid dresses
Anybody else getting all warm and fuzzy girl power feels?
But wait, she goes on…
"Gigi's been modelling since she was a young kid and I think people forget that," Shanina added.
And, cause VS sisters stick together, Shanina also offered some pretty sweet advice to the duo:
"Seeing them being new to Victoria's Secret, I saw myself four years ago," Shanina recalled. "I had like Adriana [Lima] and Miranda [Kerr] giving me advice at that time so I just said, 'You know what, enjoy the moment.'"
More info: http://www.graziaaustralia.com/bridesmaid-dresses-melbourne
Gorgeous, sweet and supportive?
It's enough to make us sick….with love, of course.
"Gigi had to try out a few times before she got in. And Kendall, she's been saying she wants to model for a while."