Shirtwaists are among the many garments, feathers and hats that are on display in the Museum's Ladies Dress Shop. These three garments resemble blouses decorated with embroidery, and this case, black trim. But the shirtwaists are more than just garments. They are a sign of a far-reaching revolution, not just in fashion, but also for working women in the 19th century.
The shirtwaist first appeared in the 1860s as an alternative to the matched skirt and bodice worn by nearly all well-dressed women. Modeled after a man's shirt, the first ladies' shirtwaists were rather plain. But the fashion designers soon took hold of this new look and they made shirtwaists in all colors, sizes and styles. They were usually made of cotton or linen, a good choice considering there were no air conditioners in the nineteenth century. The ladies that wore these garments would always tuck their shirtwaists into their skirts and accent their waists with a belt or sash.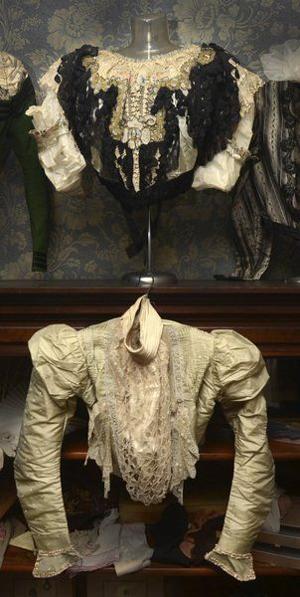 photo: cheap formal dresses
The shirtwaist and skirt became the outfit to wear by young women. Gone were the stiff, confining bodices and the need for a separate, complete dress for every occasion. The shirtwaist at first could only be buttoned up the back; buttons on the front of the garment came later. But more changes were coming to the fashion industry itself.
When the demand for shirtwaists began to grow, factories that made nothing but shirtwaists sprang up all over America. This clothing boom was aided by a large number of immigrants from Europe. Families from many European countries were fleeing all sorts of disasters in their native lands. The factories offered a new start in America, and a means to send money home. Those that stayed and survived here became an important part of the new America-an America that saw the rise and spread of labor unions, and hard-won better working conditions for shirtwaist factory workers.
Even as the shirtwaist became the sign of a clothing and factory revolution, it also changed visual art as well. A poplar icon of this new age was the Gibson Girl, a young, flawless beauty that wore shirtwaists with skirts or other clothing depending on the activity. The Gibson Girl was the creation of Charles Dana Gibson, a magazine artist. The Gibson Girl, created in 1890, became a long-lasting symbol of American women until she was replaced by the "Flapper Girl" of the 1920s.
Fashion, style and far-reaching change-all of these were provided to America by the shirtwaist garment. Come to the Historical Museum to see the garments that changed America forever.
see more: cocktail dresses australia