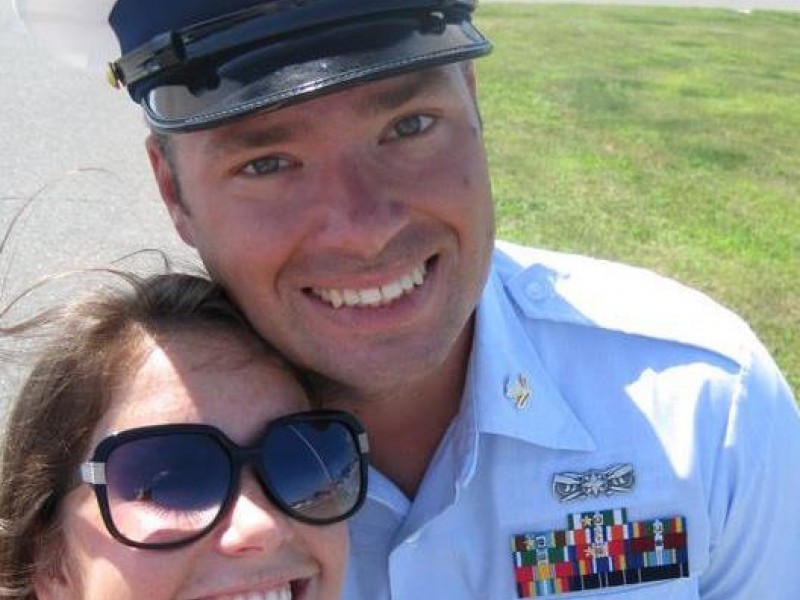 Petty Officer First Class Patrick Rogers, 33, and Jessica Peters, 30, of Sayville, won the Annual Veteran's Day Wedding Giveback, a contest that's held to thank military personnel and recognize them for their service to the nation, organizers said.
They were surprised at a special event held Thursday at Peconic Landing in Greenport, where they had no idea they had been chosen as winners.
Sponsored by Peconic Landing, the giveaway, which includes a dream wedding at Brecknock Hall, is made possible through sponsorship and contributions from local businesses and organizations who donate time, talents and services.
The couple has been engaged since March 5 and dating since 2011. Rogers has served in the United States Coast Guard for 13 years.
The lovebirds were beyond ecstatic about winning.
"The experience has been surreal and we are still in shock that we have been chosen for the 2016 Veterans Day Wedding Giveback," said Jessica Peters, who lives in Sayville.
Peters said her sister saw the advertisement for the contest and immediately forwarded them the information to enter. "She knew how dedicated Patrick is to his career in the Coast Guard and how his efforts in both his daily work as well as his extra volunteer work would help make him deserving of this honor. I'm so glad the panel of judges who read our application also felt the same way," she said.
The couple, she said, met five years ago, "when Pat and a few of his colleagues who were stationed in Hampton Bays at Coast Guard Station Shinnecock decided to go out to eat at a restaurant where I worked part time. We met on a Tuesday and Patrick was on duty the following two days so we scheduled our first date for that Friday. We went out for dinner and drinks and conversation never stopped. We got along great and had so much in common and have been inseparable since. I knew I'd found the love of my life right from the start."
Peters said her family has always loved boating on the Great South Bay, and Rogers' family did the same. "Throughout our relationship, even though I have always traveled out east with my family, Patrick would take me on day trips to explore new towns and teach me even more about the East End of Long Island. We would walk through Main Streets, hike through different woods, spend the day at beaches I had never been to, and visit town festivals. We definitely enjoyed eating and drinking local food and beer at different restaurants, as well."
The pair shares a love for skiing — her fiance proposed to her on a mountaintop, Peters said.
They also enjoy traveling to upstate New York where our families both vacationed — her grandmother owned a home in Bolton Landing and his family had a home in Fort Ann.
More from Across Patch
Texas GOP To Vote On Whether To Break From United States
New Jersey Mom, 7 Kids Win $429.6M Powerball Jackpot
LISTEN: Donald Trump Reportedly Posed As PR Rep To Brag About... Donald Trump
"Winning this wedding has been a dream come true," she said, adding that trying to plan a wedding has proven to be a bit difficult. "We are currently living a long distance relationship during our engagement, with Patrick in Massachusetts at his current assignment on the Coast Guard Cutter Key Largo out of Gloucester, and I am on Long Island where I continue to work."
They chose Long Island for their wedding because it's where they both grew up, where they met, and where their families live.
"Over the past two months, when Pat isn't underway, he has spent a majority of his free time coming to Long Island to visit venues with me. The process has been both expensive and time consuming. Now that we have won this incredible opportunity, we are confident that we are in good hands with Brecknock Hall, Peconic Landing, and all of the wonderful vendors who volunteer to help with this event. We can't wait to get married!"
Added Boatswain Mate First Class Patrick Rogers, 33, of Manorville, "We wanted to win so badly because it was rough planning a wedding with us being separated, especially since we wanted to have our wedding on Long Island."
And, Rogers said, "It's nice to be recognized for my service and dedication. My career can have very long and irregular hours and for the past five years Jess has been very understanding and continued to stand by my side. I'm glad she is also being honored and her commitment is being recognized as well."
Rogers said, he, too, knew right from the start that he had met the love of my life. "I love that she is strong and smart and willing to move her life to be with me and make this work."
"We are honored to be able to provide Jessica and Patrick with this special day," said Robert J. Syron, President and CEO of Peconic Landing. "This giveback would not be possible without the support of our many sponsors and business partners."
The winning couple was chosen by a panel of Peconic Landing's veteran residents who judge the contest based on the number of years served, special military honors, contributions to the community and each couple's personal love story.
Last year's winning couple, Sgt. Robert Surozenski of the United States Marine Corps and his wife Sara LeDonne were jubilant over the wedding of a lifetime. The couple is now expecting their first baby, a little girl.
"The Veteran's Day Wedding Giveback provided us with a dream wedding, offering us a high-end venue, food, entertainment, decor and services that we would not have been able to obtain or afford on our own," Sara said. "The best part of the day for me was the ceremony. Everything went so smoothly and Brecknock has such beautiful curb appeal. Everybody worked so hard for us, and we are forever grateful."
Related:GraziaAustralia
The dream wedding will take place on Sunday, November 13, 2016, in celebration of Veteran's Day, and will accommodate up to 80 guests.
"For all of the sacrifices our local service men and women make, we are proud to provide a deserving couple with this special day," Syron added.
Winners will receive an estimated $60,000 worth of services and in-kind donations from vendors including A Flippin Good Time, Allison G. Pressler Professional Skin Care, American Tent Company, Beautiful by Katy & Dina, Christopher Michael Catering, Dear Stacey Photography, East End Events Catering, East End Expressions, Fire Monkey Hair Design, Go! Bespoke, Greenport Harbor Brewing Co., Greenporter Hotel, Ivy League Flowers, Kim Jon Designs, Leanne's Custom Cakes, Macari Vineyards, Moments In Time Floral Design, Moriches Main Street Flowers, North & South Fork Weddings, Sons of American Legion, Post 203, Southold Fish Market, Southold IGA, and SPINA Bride, which will donate the beautiful gown.
Related:semi formal dresses brisbane